Products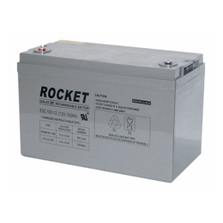 Rocket SMF Batteries 100Ah to 200Ah
ESC Series AGM
12V 100 Ah - 12V 230 Ah

The most popular series of ROCKET Batteries; The ESC series has been performing with a proven track record for more than 52 years. It has successfully exemplified its quality and reliability in some of the most demanding power conditions by providing unrelentless backup power supply.

With the same characteristics as that of the ES series, the ESC series provides power reliability to applications which require longer backup time. This series is widely used in UPS as well as Telecommunication Applications in many parts of the world. The ESC series is world renowned and recognised as a highly reliable Battery System in the industry.

MAIN APPLICATIONS
UPS
Telecom Communication Equipments
Fire Alarm & Security Systems
Medical Instruments
Emergency Lighting
Computer Backup
Solar Powered Systems.